Companies across the nation are finding that it is extremely beneficial to outsource specialized work such as loss control to well-established, expert firms such as PSC, because quality increases while costs decrease. We can act as your entire loss control department, or as an extension of your existing program, working closely with you. We keep abreast of current regulatory requirements and the latest loss control technology and concepts to help you accomplish your goals for better loss control. In addition, we provide special research for our clients when needed and offer assistance in any type of developmental projects. With PSC, you have a dependable firm that has a wide variety of resources and services, literally a phone call or email away.
PSC understands underwriting, and the challenges it presents. We can make the underwriting process more productive, efficient and results-oriented. In the end, you will have a customized evaluation report that not only has met our stringent standards, but also provides you with the tools necessary to make effective underwriting decisions.
Cost Efficiency
On average, an employer's total annual cost of an employee is 2.4 times the employee's salary. In addition to taxes and benefits, there are costs for office space, support staff, supplies, telephone and mailing expenses, program development, research, training, etc. If you have one or more in-house loss control representatives on salary for $70,000, you will incur a total cost of more than $160,000 each just to keep them on staff. This figure does not include travel expenses that will also be incurred for on-site consulting.
The following graph illustrates the difference in total cost of loss control when comparing one (1) in-house loss control representative to the full resources of PSC.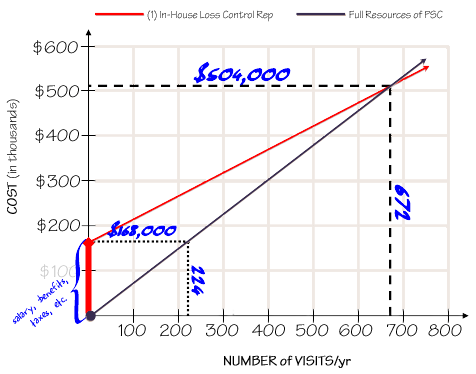 What does this mean?
PSC can complete more than 200 visits for the amount spent simply retaining one in-house loss control representative; before any travel expenses.
One in-house loss control representative would have to make 672 on-site visits per year to match the cost efficiency of using PSC
PSC has consultants across the country, so we can plan our trips to group services in a given geographic area, which dramatically reduces travel costs This is not possible for an in-house loss control department. Plus, we handle the time-consuming tasks involved with scheduling and travel, which have been refined by our experience. The bottom line is we can do your loss control for half the price and you enjoy the benefits of having an entire loss control staff at your fingertips with a combined experience of over 600 years.
Tangible Results
One of our long-term customers conducted an independent actuarial analysis and it was determined that our overall risk evaluation ratings (Above Average, Average, and Below Average) were effective in yielding accurate predictions regarding loss ratios. For example, when we rated a risk "Above Average," the year-end loss ratio for the book was 34.3%. Three years later, with continuous loss control, it was 14.7%. Refer to the table below:
Our Rating of Risk
Year-End Loss Ratio for Book of Business
Loss Ratio 3 Years Later
Above Average
34.3%
14.7%
Average
41.9%
28.3%
Below Average
194.1%
13.1%*
* On retained risks under strict monitoring or cancellation